My wife and I were knocked out for the final week of February with COVID-19, the first time for both of us. The start was rough, but luckily it receded to a stuffy nose within a few days. We effectively managed the situation with hot tea and soup, and once the worst was over we rested the remainder of the week, quarantined and caught up on House of the Dragon and The Last of Us.
📱 SwiftStarterKits Updates
Before getting sidelined, I had a solid start to the month while working on SwiftStarterKits. It truly feels like the idea is coming together. All the mini-pivots and site overhauls have been worth it, and the current iteration feels like a stepping stone in the right duration.
This month saw a flurry of product additions:
New reusable components, including: A particle emitter, horizontal and vertically scrolling stacks (compositions on several core library components), and an updated button style system.
Two new user interfaces, including a debug menu for displaying out of context screens, and an in-app purchase paywall.
The website also saw 43 commits across the month:
Overhauled the changelog with lots of new copy (there wasn't a complete synopsis of what SwiftStarterKits contained, this still needs work).
Re-added a newsletter subscription box on the homepage and blog.
Added support chat to the homepage, via SmallChat.
Added a Discord community server. I may switch to Slack since it's already being used as the backend for SmallChat. So far I'm not a fan of managing both.
Added a FAQ section to the home page.
Under the hood, I wrote some tools for sending bulk emails.
February site metrics
February saw a big uptick in traffic, almost double! Nearly all of it is from Google. I attribute this to improved SEO and finally having more content on the website.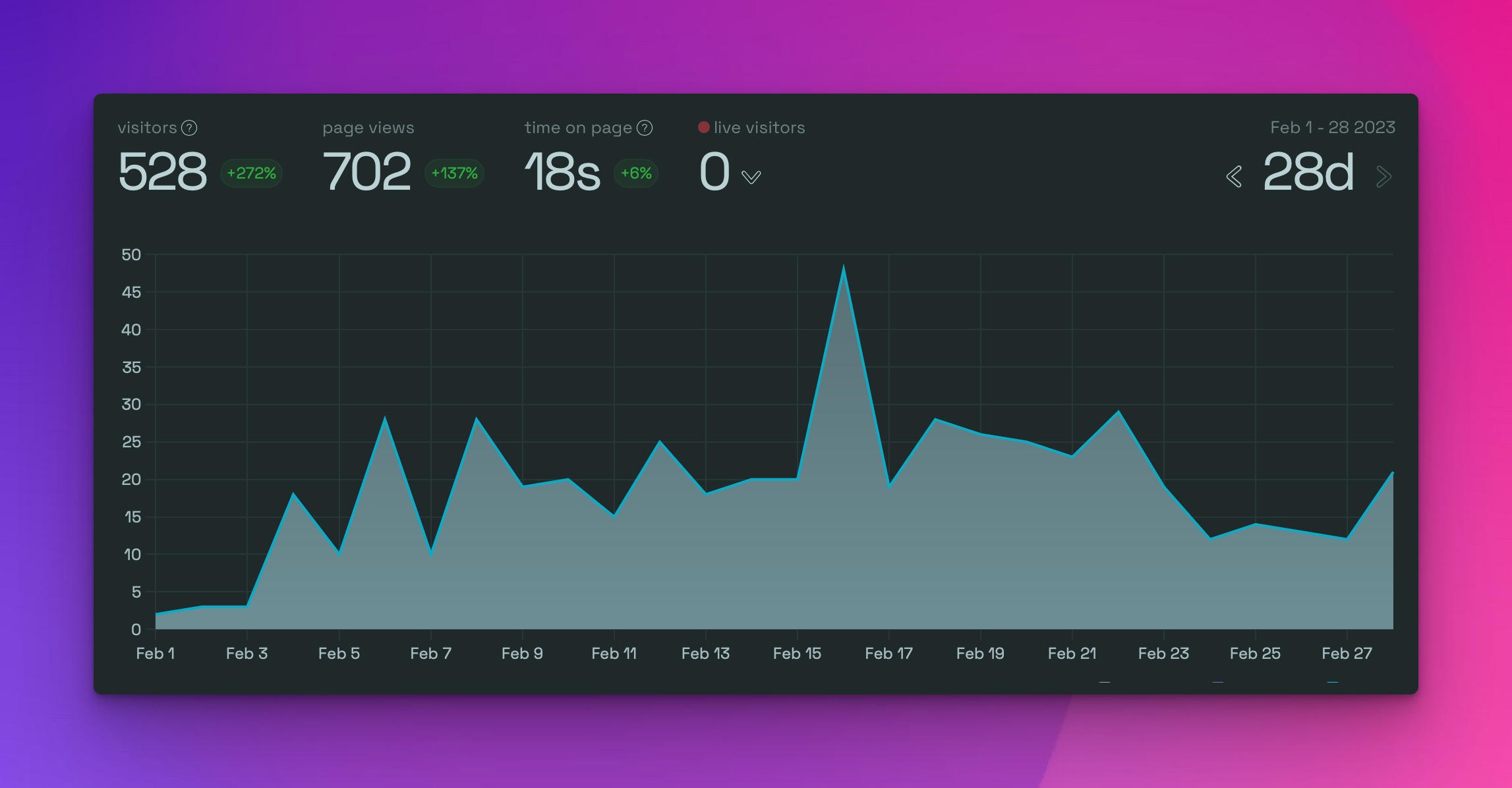 Next Steps
I have plans to improving the visitor experience on the site and try to reduce perceived buyer risk. On the surface, SwiftStarterKits is an expensive product, but is actually a steal given how much time it can save app developers. I want to make this obvious. I'm going to work on:
Add images of the included SwiftUI components and screens in a production context.
Add demo capabilities. I'm going to create a packaged beta build for all the flows and distribute publically via TestFlight. Next, I'll package the library as a single binary and distribute through an open-source GitHub repo.
Put differently, I want to stay any worries of what you're actually buying. We'll see how it goes, and whether there is an uptick in sales.
📚 What I'm reading
🎸 What I'm listening to
🎮 What I'm playing